Traditional and classic Chinese calligraphic symbols, words, idioms and proverbs for your art design. Created by
Andres Leo
since 2001.

Search Chinese symbols/words through this site:


List of all related Chinese words in English keywords:


If you could not find any Chinese words/phrases for your art design
Please contact with Andres Leo, he will try his best to translate and create a proper version for you.
The standard version is PNG transparent background format, with serval calligraphic fonts for art design.
The special service fee is $10 for one phrase, Please contact Andres Leo: taigoan@gmail.com
---
courtesy, courteous
(multi-character Chinese words)
polite, respectful, or considerate in manner;
the showing of politeness in one's attitude and behavior towards others
courtesy, courteous (see 1-character Chinese symbols)
see another keyword links:
polite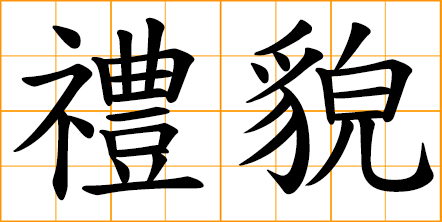 courtesy
politeness
etiquette
civility
good manners

courteous reception
treat with courtesy

comity
courtliness
make way modestly
yield out of courtesy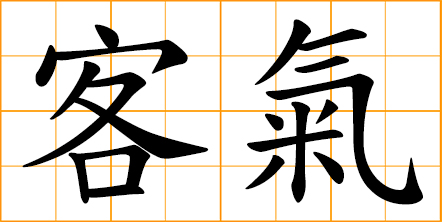 polite
modest
courteous
well-mannered
polite and respectful
generously hospitable

courtesy
respectful
humble and polite
modest and courteous


Modesty benefits, arrogance hurts.
The modest receive benefit, while the conceited reap failure.
Benefit goes to the humble, while failure awaits the arrogant.

attentive
complaisant
courteous and attentive

provide thoughtful service
attentive and considerate service
thoughtful and satisfactory service
feel at home by the courteous service