Chinese Words Database chinese-word.com
Traditional and classic Chinese calligraphic symbols, words, idioms and proverbs for art designs, useful reference source for Chinese learning with pinyin audio pronunciations, videos, calligraphic writing strokes animations, and more. Created by Andres Leo in Taiwan since 2001.
Feedback form Andres's clients
If you have any positive feedback about Chinese Words Database,
You are welcome to contact with Andres Leo via:
taigoan@gmail.com
---
Thank you very much, your database is a huge blessing on my journey to learning. I am taking a college course and am trying different approaches to learning and knowing that you have been adding to your site for folks that want to learn is a great help. I will purchase more as I go to help you in your project. I was born in Iowa and enjoyed the portions of your story I read. Thank you very much for the hard work you have put into this.
Your website was the most informative and interesting site I found when I was looking for a place to double-check the information in my textbook. Trying to find and trust multiple sources when processing new information can be challenging and I appreciate your hard work and dedication.
I appreciate and love what you are doing!
Ryan (4/19-22/2022)
---
(purchasing of Chinese words)
Mr. Leo,
Thank You So Much!
Words cannot express how important these images are to me, and how pleased I am with the GREAT (high!) image resolution of these images.
I will be using them on a gravestone memorial.
I do have a question about which version to use (I do not speak Chinese).
Since I am using these on a memorial marker, I prefer the look and feel of the "running" version.
Would the Running version be appropriate, and ok on a memorial?
(I do see the Stone Engraving version. That seems logical, but I like the look of the Running version better.)
Please forgive me for this suggestion, I feel your service is more valuable than $6.50. I would like to make a larger payment, in thanks and appreciation and will do that via paypal.
As a business person, I suggest you raise, or double your price. If a price is low, the perception of its value is low, too. But I am sure you know what is best for you.
Again, my deepest gratitude for the beautiful high resolution files, and the quickness of your service.
Wishing you the best!
Fred (2/21/2022)
---
(purchasing of Chinese word)
Hi Andres,
Thank you so much for the fast turnaround! I may need more characters for my project, so I will be in touch.
Best,
Heather (1/30/2022)
---
Thanks for sending this. Very professional presentation. And I appreciated the pdf with all of them listed.
Clay G (1/1/2022)
---
Hi Andres!
Wow! That was fast 😊. Many thanks. I am very grateful for your generous help.
Kind regards,
Björn (5/18/2021)
---
I had the previous cooperation with you and it's a great honor for me.
Tell me please, maybe you have other websites for article publishing or link submission?
I will grateful for the new offer from you.
Laura (4/2/2021)
---
Thank you so much Andres!
I appreciate and love what you are doing!
Kim (3/23/2021)
---
Thank you so much for taking the time to explain so thoroughly.
I can't even tell you how much I truly truly appreciate it. Thank you!
Amesha (8/14/2020)
---
Yes! your website was very helpful.
That"s cool, You really helped me out a lot and I'm thankful that I got what I wanted. I was so lost!
But thank you, I appreciate it a lot ✊🏽
Best Regards!
Vinny (6/010/2020)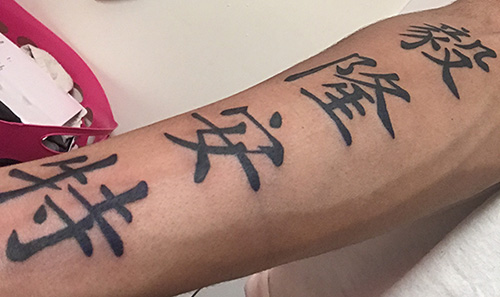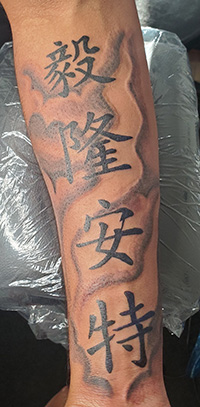 note from Andres Leo:
the 4 Chinese characters from my database site are
毅 (determination, perseverance)
隆 (prosperous)
安 (safe, calm, peaceful, tranquil)
特 (special, extraordinary)
It's an awesome tattoo design!
---
Andres,
You are AWESOME!
Thanks for the files.
You did not ask this but I ran the PayPal twice....so I paid you $20.00.
You are a blessing to me for providing these kanji.
Thank you so much.
You'll hear from me in the future!
Take care,
Ted (3/03/2020)
---
I was just searching for this info for some time.
After 6 hours of continuous Googleing, finally I got it in your web site.
I wonder what is the lack of Google strategy that don't rank this type of informative websites in top of the list.
Usually the top sites are full of garbage.
Sophie (2/10/2020)
---
Dear Andres,
You are so kind! Thank you very much.
Suesan (2/04/2020)
---
I highly recommend the Chinese calligraphy services of Leo Andres. We needed help in designing a grave marker with Chinese lettering, and had no idea how to go about it.
Fortunately, we found Leo through his web site. He responded within hours of my request for his help. Through the messages back and forth, Leo was very professional and fast through the whole process.
I'm very happy with his services and his pricing is extremely reasonable. I highly recommendhim for professional assistance with a memorial marker or any service you may need regarding Chinese calligraphy or translation.
Michael Shackleford (3/29/2018)
The Wizard of Odds
Michael Shackleford also known as "The Wizard of Odds"
is an American mathematician and an actuary,
best known for his professional analysis of
the mathematics of the casino games.
---
Thank you again for taking time out of your day to help me out I really appreciate it. I hope you have an amazing day!

Giselle Abreu (6/16/2019)
---
Thank you, I will deffentaly use you again if I ever have the need, and I will recomend you, and make sure I put your website on the cover so people know where to go.

Edward Hunt (11/21/2011)
---
Hi Andres, I just wanted to say how appreciative I am of not only finding your website and service, but the very fast response. Your characters are extremely clean and look fantastic, and your response is the fastest I have ever encountered from ANY service. Thank you for a great website and service!

Kind regards,
Phil Bradley (5/6/2010)
---
Thanks a lot for all your help, If I intend to get any more Chinese symbols done I'll definitely come back to you. Thanks again

Beau (2/10/2010)
---
The Formosa Translation products are invaluable to us. We're ongoing users of the website, CDs and translation service. Their translations are fast and authentic and they're able to translate any name, word or phrase for us.

Beth & Lynn Stefani, Owners
SorellaJewelry.com
(2009/10/20)
---
I came across Formosa Translation Service by chance as I was searching for someone to confirm the translation of some Kanji I intended to use for a tattoo. The price was reasonable so I gave it a shot with one line of Kanji in which I was interested.

The turn-around time was better than advertised and the finished product was of extremely high quality and I was more than satisfied.

Mr. Leo's deep knowledge of the language makes dealing with him very reassuring, and he has shown he will go beyond simply filling your order to ensure customer satisfaction. I now use his service exclusively, actively recommend it to friends and artists for their Chinese translation needs and am happy to provide this testimonial to let others know about this fantastic service.

David from Canada (2008/09/25)
---
Hello, Thank you so much for your prompt response. I really appreciate your work.

(Heather, 9/13/2008)
---
Thank you Andres, for your quick response! I am getting my first tattoo and since it is PERMANENT I wanted to be sure that I was doing it correctly.

Thank you so much and I will check out your website.. regards

(Susie Spady, 8/8/2008)
---
Thanks Andres I will speak to my friend who I am working on this project with. Thanks so much for your help.

(Dave, 7/31/2008)
---
Hi Andres, Thank you so much for your quick response and consideration in this matter. Kind regards,

(Kai Benjamin, 7/29/2008)
---
Mr. Andres, I am so excited, since I received my translation from you consisting of my boys names and made it into a tattoo, 2 other moms at our karate dojo have contacted you re: having their children's names done also. I think copying someone's idea is the highest form of flattery. And so far everyone's tats have turned out beautiful! Thank you for making that possible. I have placed another order for a 3rd mom's names today. I cant wait to see how they turn out.

(Mandy, 6/20/2008)
---
Thankyou very much, I will be reccomending you to my friends and my artists.

(Brent D. 5/07/2008)
---
Andres
Thank you so much for getting back to me so quickly. I got the tatoo and I love it. Ill def reccomend ya to anyone else! Take Care

(Sue, 5/04/2008)
---
Andres, Thank you so much for the translation. This is a special translation that represents the 30 year anniversary to my wife and best friend. This is not the first time you have translated for one of my tattoos. Best Regards,

(Ira Levine, 3/20/2008)
---
wow awesome
thank you so much for helping me with that
it means so much to me to get this tattoo done ill send you a picture when its complete
thank you again from the bottom of my heart

(Gina M. 3/07/2008)
---
Thanks so much for your information. We've sold a number of our Chinese symbol pendants to people of Chinese descent and they have told us that we do a very good job with the symbols. I always tell them that we owe it all to Andres Leo!

(Beth, 2/15/2008)
---
Thank you, Andres! Once again, an awesome result soon to be scribed on my body. Best regards,

(Robert, 2/03/2008)
---
Thank you very much for your time and effort. This was exactly what I was looking for. I will be certain to recommend your service to others, and I will also remember you when I need additional work. Enjoy the new year.

R. Bachand (1/17/2008)
---
Hi Andres, Thank you very much. This, I believe, is either the 2nd or 3rd time I have used your services and with each time, I have been extremely satisfied with your extreme effort to satisfy the customer and also, your extremely fast service. You have made another customer very happy. Enjoy the day/night (where ever you may be). Sincerely,

Randy (1/14/2008)
---
Hello Andres: Thank you very much for the super-quick response. These characters are going directly to be my newest tattoos. Best regards,

(Robert, 1/05/2008)
---
Thanks for your quick response. We'll definitely be using your service again.

Beth Stefani (12/06/2007)
---
Dear Andres, Very pleased to hear from you again. In particular, I love the old Chinese characters so very much, that any iteration of them is usually pleasing to me! Have a splendid day and do keep in touch!

Jeanie Wu (11/29/2007)
---
Dear Andres, Your Chinese numbers 1 - 100 with audio is absolutely great. Thanks soooooo much............

Richard (11/03/2007)
---
Thank you so much! I'm very please with my translations and love your website. I'll definately contact you again, if I need any other translations.

(M. Raymer, 10/25/2007)
---
You are right Andres and the translation is perfect and right on target. This morning I realized that my company name was translated and made into several seals, chops. ...

Thanks again and thanks for discussing it and giving your expert opinion. Have a great weekend,

(Sande, 9/8/2007)
---
Thank you very much! Your artwork is beautiful! I can't wait to have this tattooed onto my arm. If anyone asks where they can get a quality English to Chinese translation, I will give them your name and website name. Your price is very reasonable also. Thank you again!

Mike (8/19/2007)
---
Thank you very much for responding so quickly. They are both beautiful...I think I will get Live the moment for my tattoo!

(Tania DiGioacchino 7/15/2007)
---
Thanks again Andres. After I told every one what my tattoos meant, they would say,"How do you know that what it means." I would say because I have a very trustworthy person translating it for me. Thank you.

(C. Boudreaux, 5/30/2007)
---
Thank you Andres for another translation and the quality customer service, I will for sure recommend your website to friends who are also will be soon need chinese translations for tattoos.

(A. Phan, 4/24/2007)
---
Thank you for your time, it is very much appreciated. You have now given me the confidence to get my tattoo, knowing that I will be wearing the correct symbols to explain the way I feel about my family.

(Rod, 4/13/2007)
---
Thank you very much, Andres. you know, this invite (wedding) will always be part of our life portfolio, and I know that in the future, when I look at this invite, I'll remember the process of getting it and your helpfulness. Again, thank you.

(Emily, 2/13/2007)
---
Mr. Andres Leo, thank you very much for writing me back. I really appreciate you being so fast with your answers and being so accurate with the translation! THANK you very much. I am very pleased with the results. I wish you all the best for your business. If anybody askes me, I will defenitely recommend YOU! Have a relaxing evening! Greetings from Canada,

(Sophie,11/15,2006)
---
Thank you very much Andes for the beautiful lettering. It will look great on the inside of my left forearm once the lettering has been shrunk down a bit. If I ever need any more lettering, a phrase or whatever ... I now know who to turn to. You are awesome Andes. :o) Sincerely,

(Randall Hayward, 10/18/2006)
---
Hi Andres....I received everything and have printed them out...you are fantastic! I cannot tell you how happy you have made me! Such a beautiful art! My son loves it too!

(Linda, 10/03/2006)
---
Many thanks. I was extremely pleased with the artwork and it was exactly what we were looking for. It is now heading the information pages on the school website during our Chinese themed week. Regards

Steve Odell, Comberton Village College, UK (6/28/2006)
---
Thanks Andres, You will hear from me after I go forth with my journey, I thank you in advance for all your help, and will always remember the man who helped me make one of the biggest decisions in my life. You ROCK, thanks again

(Jeremy MacKay, 5/17/2006)
---
You are AMAZING~~ I thank you so much. It will be the PERFECT gift for our good friend who just graduated from nursing school! Thanks again and best to you in the New Year!!

(Susan, 1/13/2006)
---
Hello Mr. Leo, Thank you so much; it's beautiful. I can't wait to have the tattoo done. Best,

(Shana Lesch, 6/15/2005)
---
Thank you so much! I will recommend your services in the future!

(Stacey, 4/11/2005)
---
I would really like to thank you for the translations and I am going to recommend ur service to friends and family, not only was it a good price but very quick return and delivery of the translations thank you once again

(Adam Emmons, 3/14/2005)
---
Thank you for your time. It is greatly appreciated. I tell all my tattoo customers to refer to your site for translations and I will continue to do so. And I will also let them know how great your customer satisfaction means to you. Thank you and I look forward to useing you for bussiness in the future. Sincerly,

(Justin A. Buduo, 8/26/2004)
---
Andres, you are the MAN! I ordered my translation in the first part of my work shift, and got it before I had to leave! That was AWESOME! I'm totally referring you to all the tattoo parlors I come across. Thanx again, man.

(Rob, NY , 6/5/2004)
---
I would like to say thank you for the continuous service this webiste has offered me. I really do appreciate it.

(Tamekia, 5/12/2004)
---
Dear Andres Leo, I want to thank u very much for the translation of my name and my nickname. And also thanks for translating it so quickly. Regards,

(Rogier , 4/27/2004)
---
Thank you SOOOOOOOOOOOOO much. Again, your work is outstanding, thank you so very much.

(James , 4/23/2004)
---
Again, I can't thank you enough. You have a wonderful service here. Keep it up.

(Shannon , 4/6/2004)
---
Thank you once again for your help Andres, I will recommend your web site to anyone who is looking for translations!

(Jane Urwin, 6/19/2003)
---
Thanks for your quick response. I will take your advice. I don't want to have a weird tattoo on my body!

(Janie, 6/2/2003)
---
Andres, Thank you so much for your prompt, professional service! I will be sure to tell my friends about you! Best wishes,

(Brent, 5/02/2003)
---
Thank you so much!!! It is a pleasure doing business with you!

(Amy Doyle, 4/22/2003)
---
Hey Andres, Thanks for the quick translation! It looks great! Can't wait to get the tattoo done! If any of my friends need a translation or a Chinese character template I'll send them your way! Great stuff! Thanks again.

(Enrico B, 4/18/2003)
---
Thanks so much! I have searched around the net trying to find this translation and finally found your web site! Thanks so much for all of your help!! I really appreciate it!!

(Amanda, 4/4/2003)
---
Thank you so much for taking the time to understand my request. I really appreciate the extra effort you spent with it. Thanks again.

(Dave, 4/3/2003)
---
Thank you again! I can't tell you how appreciative I am of your understanding and kindness. Be assured I will highly recommend your Web site to numerous friends.

(Tom Turkle, 4/2/2003)
---
Thank you for your quick turnaround on my requests! We'll keep your site bookmarked for future use and recommend it to friends who are interested.

(Zahava Savory, 3/6/2003)
---
Mr. Leo, Thank you for your translation. I have been trying to find it for quite some time. I greatly appreciate your assistance.

(Sonia, 3/2/2003)
---
I am so glad this web site is up and working again .... I have dedicated much viweing time to this website. I love it .. Again Welcome back and much continued success.

(Czesar, 2/10/2003)
---
Thank you very much. I loved your site and will recommend it.

(Jennifer Kolowski, 1/23/2003)
---
Mr. Leo, it is such a pleasure to hear from you again. I am surprised that you remember me as I am sure you have many requests for traslations. I am very happy to have this traslation (and so quickly too!), and it is interesting that you know the story.

(Rochelle, 1/21/2003)
---
Andres, Thank you for your prompt response. The translation looks great. I am looking forward to using your services in the future.

(Keith, 1/9,2003)
---
Finally I have found a site that can give me the calligraphy characters I have been seeking for a logo design I would like to create! Thank you so much for your patience and time in answering my inquiry.

(Lucie, 11/14/2002)
---
You are good gentlemen. God bless you for your great help. Thanks a lot and I hope to get in touch with in the futurre.

(Edmond Diab, 11/12/2002)
---
Thank you very much for the translation. It is a Birthday present for my boyfriend. I just wanted to let you know that I got it. And thank you alot for all your help!

(Charish, 11/1/2003)
---
I really enjoy your work at the chinese database and hope youll carry on making as many symbols as possible because they really are beautiful.

(THA, 10/11/2002)
---