TRANSLATE YOUR WORDS/MESSAGES
in both traditional and simplified Chinese characters
to reach more potential Chinese readers worldwide.
---
Chinese vocabulary with English keywords
A B C D E F G H I J K L M
N O P Q R S T U V W Y Z
outstanding
exceptionally good; much better than what is usual
see another keyword link:
outstanding (1-character)

top-notch
excellent
outstanding

dignitary
leading figure
eminent personage
outstanding talent
the best of the field

superb
eminent
excellent
excellence
prominent
remarkable
outstanding
distinguished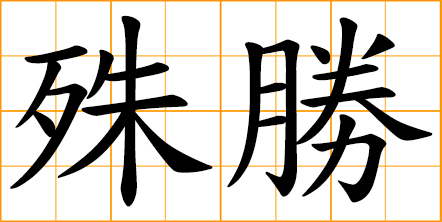 superior
excellence
distinguished
remarkable and outstanding

hero

outstanding figures
heroes of the achievements

heroes
person of exceptional ability

illustrious individual
outstanding talent
outstanding people
wise and able person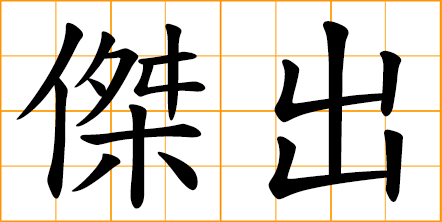 outstanding
distinguished
remarkable
prominent
extraordinary
worthy of attention
successful and authoritative

masterpiece
masterwork
a brilliant piece of work
a work of outstanding artistry

elite
brave and superior person
person of outstanding talent
person with courage and ability

outstanding leader
talented and superior person

unusual
outstanding
extraordinary
exceptionally good
out of the ordinary

excel all others
surpass all others
above the common
outstanding and eminent
stand above all the others

outstanding
remarkable
pre-eminent
stunningly beautiful

best of the best
well-known figure
excellent person or company
the most outstanding person


preeminent
surpassing all others
extraordinary disposition
eminent above all others
stand out among others
distinguished from one's kind
outstanding imposing manner

leading figure
outstanding scholar
authority of knowledge

legendary figure
magnificent person
outstanding character
rare, exotic flowers

Bravo!
wonderful
climax of a play
splendid and outstanding

classic, classical
typical of its kind

lofty and steep, towering
outstanding, brilliant, extraordinary
---
TRANSLATE YOUR WORDS/MESSAGES
Your art design inspiration in classic Chinese words and verses!
Design ideas for Kung Fu, Martial art teaching and learning,
Tattoo, Engraving design, Congratulation cards, Epitaph, grave markers,
Your poetry, blog articles, websites, letters, special messages...
in both traditional and simplified Chinese characters
to reach more potential Chinese readers worldwide.
---