Chinese Words Database Gift Shop
---
Chinese vocabulary with English keywords
A B C D E F G H I J K L M
N O P Q R S T U V W Y Z
luck
success or failure apparently brought by chance
see another keyword links:
lucky (Chinese words)
lucky (Chinese idiom)

fate, luck, fortune

try one's luck
take a chance
depend upon luck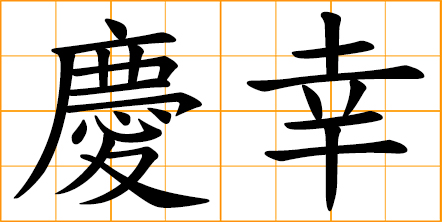 fortunately
congratulate oneself
gratified to have been favored by luck

luck
luck at gambling, card playing

fortunately
lucky enough
have the honor
happening because of good luck
have the honor of (doing something)


So nice to meet you!
be the most supreme a stroke of luck
It's the most fortunate thing to meet with you


most favorable auspices
great fortune and great profit
unexcelled luck and great prosperity
Lucky and Prosperous New Year

Approaching lucks and evading evils.
Pursue good fortune and avoid disaster.


After extreme bad luck, comes good luck.
out of the depth of misfortune comes bliss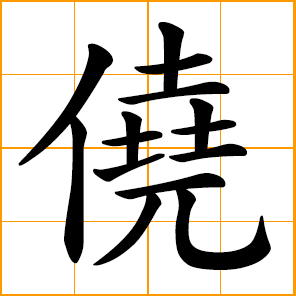 luck, lucky

gourmet's luck
enjoyment of the palate
luck in having good food
having good things to eat


God loves fools.
Fortune favors fools.
God sends fortune to fools.
stupid is as stupid does

rugged, uneven
bad luck, unfortunate
---
1-character Chinese Words Collection
traditional/classical Chinese symbols
which are good for Chinese art design ideas
---
2-character Chinese Words Collection
traditional/classical 2-character words
which are good for Chinese art design ideas
---
Chinese Porverbs Collection
collection of modern and classic Chinese mottos and proverbs
---
Chinese words/symbols for
Love, Passion, Affection, Sentiment
---
Chinese words for Kung Fu, Martial Arts
---
Chinese words for Animals, Beasts, Pets
---
Chinese words for Birds, Wings, Flying
---
Chinese words for Food, Cooking, Eating
---
Chinese words for Fantasy, Legend, Mystery
---