| | |
| --- | --- |
| | Search Chinese Symbols/Words: |
Translate Your Words - get a favorable Chinese translation for your
creative art design and tattoo idea! -->> Submit Your Idea!
---
---
Like this page?
Click the FB button to share~
THANK YOU!
---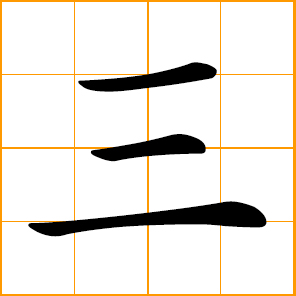 Chinese text: 三
The meanings in Chinese:
three
the number 3
pronunciation: san~1

view the san section for more information!
calligraphic strokes animation:
multi-style calligraphic fonts for this symbol:

---
Receive through e-mail all the calligraphic styles for your art design for just $2.00!

Click Here to view the example page for all seven calligraphic styles, traditional and simplified Chinese symbols (8 clip-art files) in a folder.

Item number for this symbol: 0005


Note: a folder which contains several clip-art JPEG files will be created and e-mailed to you within 1-2 days. Sorry about the inconvenience and thank you very much!
---
Chinese Numbers from 1 to 100 with audio pronunciation and structure analysis.

related section: Instruction about Chinese numbers and dates
Chinese words start with this character:
三月
March
the third month of the year
三郎
the third son
(in Jpapanese kanji)
三角戀愛
the love triangle
the eternal triangle

三寶
Buddha, Dharma, Sangha
three treasures in Buddhism
三昧
secret, knack
samadhi
a state of intense concentration
achieved through meditation.
三部曲
trilogy
three scenarios
fictions of 3 scenarios
三腳貓
three-legged cat
jack-of-all-trades
三生有幸
be the most supreme a stroke of luck
三思而行
think thrice before you act
look before you leap
examine oneself before action
三番兩次
again and again
repeatedly
twice and three times
三頭六臂
superhuman powers
with three heads and six arms
三顧茅廬
to pay three humble visits to
the thatched cottage of the hermit
(literal meaning)
to request a worthy person repeatedly
to express the sincerity
(figurative meaning)
三長兩短
unexpected misfortune
something unfortunate, especially death
---
Translate Your Words/Names - get an elegant Chinese translation for your creative
art design, tattoo, and business project! -->> Submit Your Idea!