Traditional and classic Chinese calligraphic symbols, words, idioms and proverbs for your art design. Created by
Andres Leo
since 2001.

Search Chinese symbols/words through this site:


List of all related Chinese words in English keywords:


If you could not find any Chinese words/phrases for your art design
Please contact with Andres Leo, he will try his best to translate and create a proper version for you.
The standard version is PNG transparent background format, with serval calligraphic fonts for art design.
The special service fee is $10 for one phrase, Please contact Andres Leo: taigoan@gmail.com
---
rich
having a great deal of money or assets;
existing in plentiful quantities
see another keyword links:
wealthy

rich and abundant
affluent and plentiful
well-off and prosperity

riches and honor
wealth and high position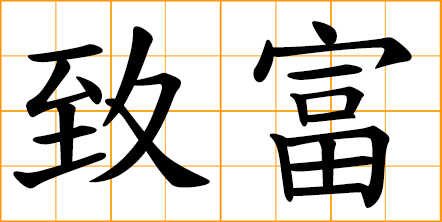 to enrich
become rich
acquire wealth
make a fortune

to prosper, become rich

become rich
make a fortune
acquire wealth

Bring in wealth and riches
Ushering in wealth and prosperity
We wish you wealth and success!

abundant, rich
flourishing, prosperous

lavish
rich and sumptuous
sumptuous and luxurious
splendid and expensive-looking

rich
strong
heavy
(flavor, fragrance)