---
everything
see another keyword link:
every (Chinese words)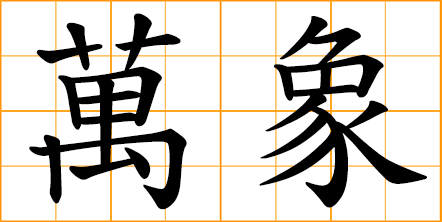 universal nature
myriads of things
everything we see
overarching phenomena
various phenomena appear


Good luck in everything.
May all go well with you.
Everything is as one wishes.
May everything go as you hope.

Lucky for everything.
Good luck in everything.


getting what one wants
gratifying and satisfactory
everything one could wish
give one the utmost satisfaction
just in accordance with one's wish


Everything visible is empty.
(Buddhist concept)

Love Conquers All.
---
Andres Leo's Translation Service
Assistance for your art design with Chinese characters!
Chinese translaton for names, short message for tattoo or any art design,
grave markers, official brochures, restaurant menu, any manuals, documents,
letters, poetry, blog, web articles, in traditional and simplified Chinese characters
---