Translate Your Words/Names
Get a favorable Chinese translation
for your creative art design and tattoo!
Submit Your Idea!

Chinese keywords listed alphabetically
HOME - A B C D E F G H I J K L
M N O P Q R S T U V W X Y Z
---
endurance
see another keyword link:
endure (Chinese words)

durability
endurance
stamina
staying power

durable
lasting
enduring
long-lasting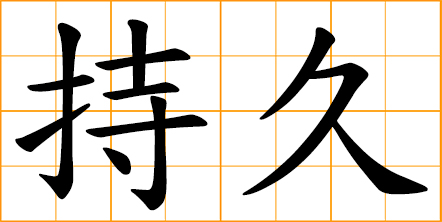 lasting
durable
enduring
last for a long time

durability
endurance
persistence
sustaining power

marathon

long-distance running

stamina
tenacity
toughness
endurance
resilience
staying power

tough and tensile
firm and tenacious
sturdy and durable
tenacious and strong

fortitudinous
bravery and enduring
steadfast and persevering
persevering and determined

to endure
to tolerate
endurance
tolerance
forbearance

steel oneself
temper oneself
self-discipline
training with endurance


never give up


a heavy load and a long road
the burden is heavy and the road is long
take a heavy burden and embark on a long road
bear heavy responsibilities through a long struggle


What doesn't kill you makes you stronger.
When the going gets tough, the tough get going.


come to the end of one's patience
cannot stand provocation any longer
driven beyond the limits of forbearance
If this can be endured, what else cannot
---
Translate Your Words/Names
Get a favorable Chinese translation
for your creative art design and tattoo!
Submit Your Idea!
---